This page was inspired by 5 year-old Grace Bowman who made a drawing of her parents, Todd and Mary Beth, exercising with the Isorobic Exerciser.
This is Grace's drawing: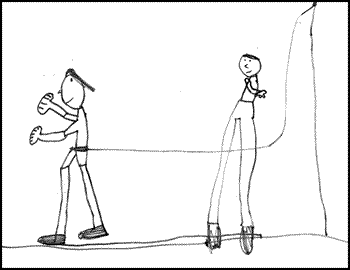 ---
This is 5 year old David Conley's drawing of himself along with Grandma Loretta Osborn (Nana) and Grandpa Dan Osborn (Papa). Both Loretta and Dan have done great with the Isorobic Exerciser and brought David in for their in-office fitness test. Loretta who is a licensed massage therapist has just completed her Community Fitness Leader Isorobic Instructor Certification.